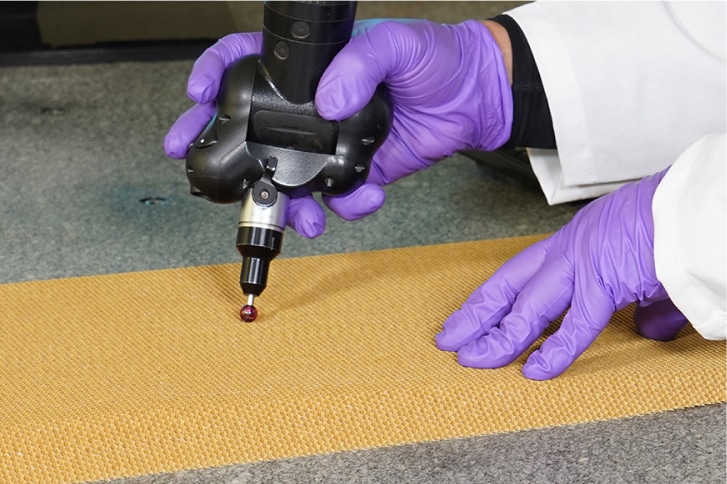 We are committed to providing products and services that meet or exceed the expectations of our customers.
To achieve our quality goals, we strive to continually improve the effectiveness of our quality management system, ensuring it meets the needs of all interested parties, including our customers, employees, and suppliers. 
Our dedication to quality is unwavering, and we are committed to upholding the highest standards of excellence in all aspects of our operations.
Our state-of-the-art facilities are equipped with the latest high-tech machineries to ensure precise and efficient manufacturing processes. Our 3- and 5-axis CNC machines allow us to machine parts with high accuracy and consistency, while our 6-axis robot insert installation system ensures that components are installed with exact precision. 
Our team of highly skilled operators and technicians are trained to operate these advanced machines to ensure that our products meet the highest standards of quality and performance.
Coordinate Measuring Machines (CMM)
We take quality control seriously. That's why we have invested in state-of-the-art CMMs (Coordinate Measuring Machines) to ensure that every part we manufacture meets our strict standards for precision and accuracy. With CMM inspection, we can measure even the most complex geometries and ensure that every dimension is within tolerance. Our highly trained technicians use the latest software and equipment to quickly and accurately measure parts, identify any issues and make necessary adjustments to ensure that the final product meets or exceeds customer expectations. With CMM inspection, our customers can be confident that they are receiving the highest-quality parts possible.
Ensures that cell sizes and shapes are consistent within any given loaf. Configuration materially affects the strength where it is needed.
Measures how much force is necessary to crush the core after it has been bonded in a sandwich panel configuration.
Measures the core's resistance to being delaminated or sheared when facings are moved in opposite directions. Failure results in deformation of the material, which weakens it and results in a spongy floor.
DENSITY, IN POUNDS PER CUBIC FOOT
Ensures that densities remain consistent in every sheet of every lot and are within tolerance.
Our Quality Control Tests Include:
Our vertical integration allows us to control every aspect of the manufacturing process, from computer programming and raw panel conversion to final inspection and delivery of "drop-in" ready panels. We begin by using state-of-the-art CAD software to design and program the parts that our customers need. This allows us to precisely machine the raw stock panel to the exact specifications required for the finished part. Our highly trained operators and fabrication personnel use their expertise to install inserts, attach components, and apply part markings, ensuring that each panel is customized to meet the unique needs of our customers. Once the finished parts have been completed, they undergo a rigorous final inspection process to ensure that they meet our exacting standards for quality and performance.
We understand that quality is a top priority for our valued customers. That's why we are dedicated to delivering only the best, certified products that meet and exceed industry standards.
Learn more through our Doorway Magazine.
Our Value Engineering Applications Include:
Learn more through our Doorway Magazine.
Solutions to your challenges
Our passion for excellence is evident in every product we create.
The Gill Corporation provides the products that solve your challenges.