Unmatched Quality and Precision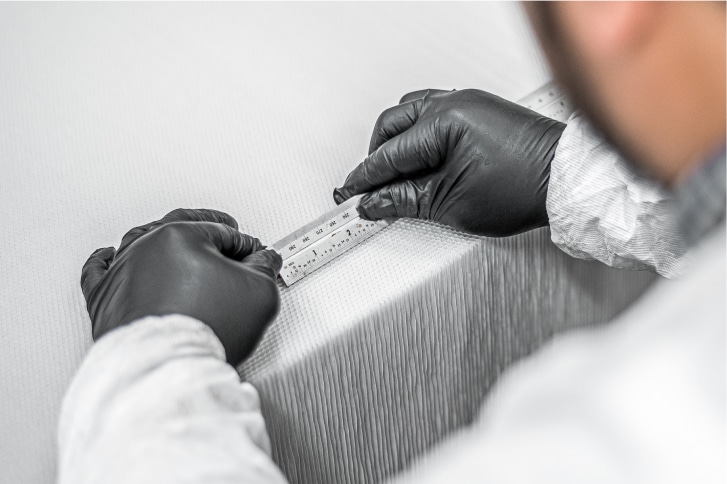 Experience the unbeatable quality and precision of The Gill Corporation's value-engineering services.
Our value engineering capabilities allow us to create high-performance sandwich panels and laminates that are unmatched in quality and precision. Our products continue to be accepted by customers around the world, including for programs such as the Airbus A350 oxygen bottle rack, Airbus A380 cockpit and E/E bay, Boeing 777, 777X and 787 floor panels, Irkut MC-21 floor panels, and many more.
Since the early 1990s, our El Monte site has been transforming raw form sandwich panels into top-of-the-line floor panels that are "drop-in ready" for installation on MD-80 aircrafts at the McDonnell Douglas assembly facility.
Our finished products are cut to shape, drilled, countersunk, edge routed, edge filled, and installed with inserts, insulation blankets, and other components. We ensure assembly is completed with the application of part markings and placards.
At the same time, TGC Europe began supplying fabricated products for various airplane programs such as BAE 146, BAE ATP, BAE RJ, and BAE Jetstream 31 and 41. In a few short years, we began supplying fabricated panels for the McDonnell Douglas MD-90 and MD-11 programs.
Today, our state-of-the-art facilities at both sites utilize modern 3-axis CNC equipment and highly trained operators and fabrication personnel to precisely machine parts, install components, inspect, and ship parts to meet customer requirements. Our fabricated parts are made from a range of materials, including sandwich panels, laminates, and assemblies composed of composite and metallic materials, dog houses, and interior monuments.
With the expansion of our El Monte site in 2016, a 140,000 sq. ft. building was transformed into our corporate state-of-the-art Fabrication Center of Excellence (COE) that boasts additional 3-axis and 5-axis CNC machines, 6-axis robotics, and assembly areas. You can trust The Gill Corporation's proven track record of delivering top-quality products and exceptional service.
Our commitment to quality is evident in our state-of-the-art CMM inspection and CAD software capabilities, which enable us to precisely machine and fabricate parts to meet our customers' exact specifications. We hold ourselves to the highest industry standards, and our ISO and AS9100 credentials are a testament to our dedication to quality and customer satisfaction.
Our vertical integration allows us to control every aspect of the manufacturing process, from computer programming and raw panel conversion to final inspection and delivery of "drop-in" ready panels. We begin by using state-of-the-art CAD software to design and program the parts that our customers need. This allows us to precisely machine the raw stock panel to the exact specifications required for the finished part. Our highly trained operators and fabrication personnel use their expertise to install inserts, attach components, and apply part markings, ensuring that each panel is customized to meet the unique needs of our customers. Once the finished parts have been completed, they undergo a rigorous final inspection process to ensure that they meet our exacting standards for quality and performance. We then kit the parts by airplane section, so they are delivered "drop-in ready" for installation on the aircraft.
Our state-of-the-art facilities are equipped with the latest hi-tech machineries to ensure precise and efficient manufacturing processes. Our 3- and 5-axis CNC machines allow us to machine parts with high accuracy and consistency, while our 6-axis robot insert installation system ensures that components are installed with exact precision. Our team of highly skilled operators and technicians are trained to operate these advanced machines to ensure that our products meet the highest standards of quality and performance. With our commitment to staying at the forefront of technology, we are able to provide our customers with innovative solutions and exceptional value.
We take quality control seriously. That's why we have invested in state-of-the-art CMMs (Coordinate Measuring Machines) to ensure that every part we manufacture meets our strict standards for precision and accuracy. With CMM inspection, we can measure even the most complex geometries and ensure that every dimension is within tolerance. Our highly trained technicians use the latest software and equipment to quickly and accurately measure parts, identify any issues, and make necessary adjustments to ensure that the final product meets or exceeds customer expectations. With CMM inspection, our customers can be confident that they are receiving the highest quality parts possible.
Our Value Engineering Applications Include:
Learn more through our Doorway Magazine.
Solutions to your challenges
Our passion for excellence is evident in every product we create.
The Gill Corporation provides the products that solve your challenges.