Fabrication, Assembly & Kitting
Excellence in Craftsmanship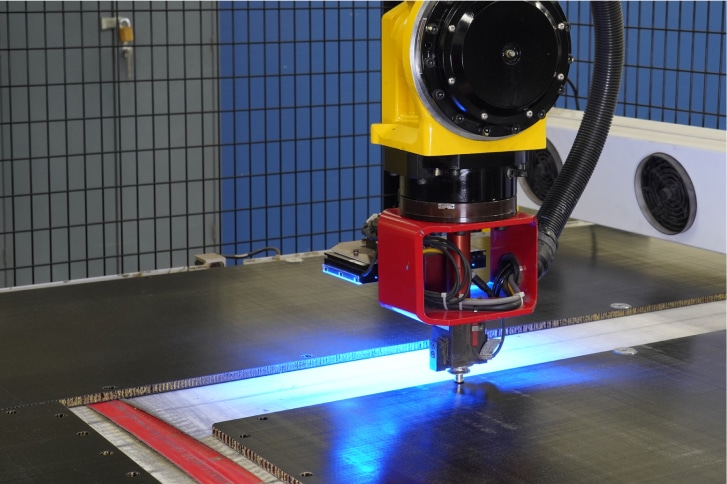 We revolutionized aerospace fabrication, assembly and kitting in the early 1990s, and we're on its forefront today.
Starting in the early 1990s, we began offering value-added services like fabrication and assembly to our raw form sandwich panels. This allowed us to deliver floor panels that were "drop-in ready" for installation on MD-80 aircraft at the McDonnell Douglas assembly facility.
With skilled personnel and modern equipment, we can precisely machine parts, install components, inspect and ship parts to meet customer requirements.
From BAE 146 to MD-11 programs, we have supplied fabricated products for a variety of airplane programs. Our expertise in fabricating parts for sandwich panels, laminates, and assemblies — including composite and metallic materials, dog houses, and interior monuments, has made us a go-to partner in the industry.
TGC conducts make-vs-buy decisions on high-value components that can be made internally to reduce costs and lead times and improve the quality of the final product. To support industry cost challenges, TGC invested in equipment, process development and expertise with advanced 5-axis CNC machines to make Titanium and Aluminum components.
FABRICATION SOLUTIONS ARE AVAILABLE IN MULTIPLE FORM FACTORS
Flat, curved, formed, or contoured
Composite and metallic raw materials
Simple machined details, bonded parts, complex assemblies or complete shipset kits
MACHINED AND DETAILED LAMINATES AND PANELS
The 3-axis machines in our Fabrication COEs are capable of cutting a variety of materials.
Panels
Laminates
Protective layers
Based on customer designs, TGC expertly installs and attaches both purchased and vertically integrated components.
Edge fill and edge seal
Inserts, insulation blankets, vibration damping and sound damping
Anti skid tapes, part markings and labels
Fittings, intercostals, splice plates


Airbus A380 cockpit and E/E bay panel fabrication
Boeing 777, 777X, 787 main deck and cargo floor panel fabrication
Irkut MC 21 shipset floor panel fabrication
Airbus A350 oxygen storage racks
IAI G280 cabin, cargo bay floor and sidewalls
Gulfstream G550, G600, G700 interior structural walls
Boeing / USAF Air Force One
Boeing 737BCF
Various other programs
FABRICATION FOR AFTERMARKET
OEM qualified materials
Proprietary designs offering improved durability over OEM and competitors products
Parts Manufacturer Approval (PMA) solutions
Flight crew seat repair
Sewing (seat upholstery, seat cushions, etc.)
Passenger to Freighter conversions:
– ATR42/72
– Airbus A320/A321/A330
– Boeing 737/747/757/767/777
– Saab 340 & 2000
Our Fabrication, Assembly & Kitting Applications Include:
Learn more through our Doorway Magazine.
Solutions to your challenges
Our passion for excellence is evident in every product we create.
The Gill Corporation provides the products that solve your challenges.