El Monte, California – The Gill Corporation (TGC) announces the launch of an all-new online experience at www.thegillcorp.com. TGC built the site from the ground up in response to customer needs.
"We've been focused on what our customers need for more than 75 years," said Jennifer Gill, VP Marketing. "Our new online presence represents our latest investment in meeting those needs, and putting the information our customers are looking for at their fingertips."
Developed in consultation with TGC customers and in collaboration with digital experience experts, the site contains a number of key innovations and customer-experience improvements.
"From the very beginning, it was clear that The Gill Corporation Team was focused on their customer needs", said Mike Schaffer, CEO of Echo-Factory. "We were able to bring in our team of web development, UX and design experts to create a website that meets those needs."
A completely updated product catalog makes it easier than ever for customers to browse product information. A streamlined structure puts product specifications, data sheets, safety data sheets, quality certifications and other key information in one central, easy to use location.
An all-new search function lets users find the data they're looking for anywhere on the site. The site also offers an updated look and feel, and is designed to be mobile-friendly so that customers can interact with it on any device they choose.
To experience the new site, please visit www.thegillcorp.com.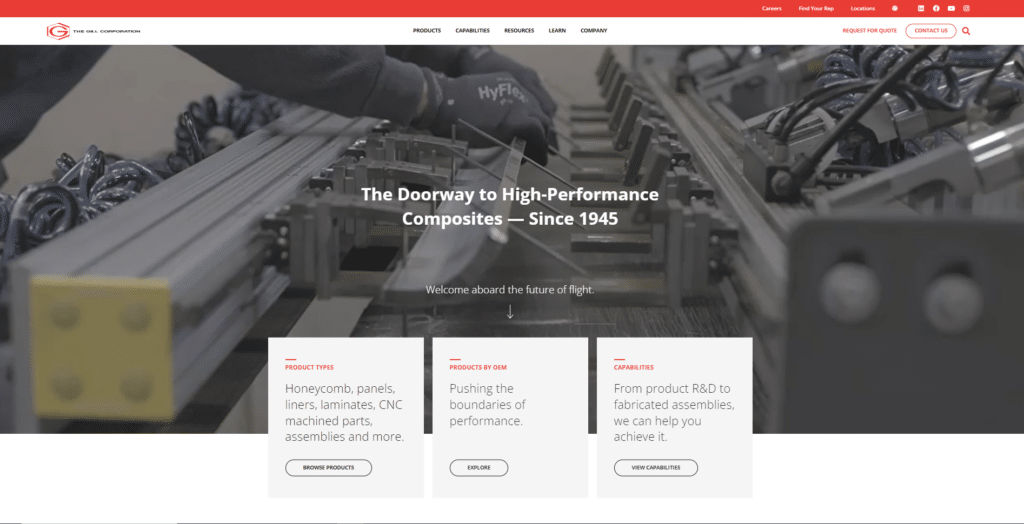 Press Contact:
Holly Nguyen
Marketing Communications Specialist
Phone: 626-258-2720
Email: hnguyen@thegillcorp.com
ABOUT THE GILL CORPORATION: The Gill Corporation is a leading manufacturer of high performance composite materials and products for aerospace, transportation and other industries. Products include honeycomb, sandwich panels, cargo compartment liners, specialty laminates, 3, 5-, 6-axis CNC machined parts, fabricated assemblies, and other value add solutions. The Gill Corporation has vertically integrated worldwide locations in Maryland, France, United Kingdom and is headquartered in El Monte, California.
ABOUT ECHO-FACTORY: Echo-Factory is a full service advertising agency based in Pasadena, CA. The company offers a "marketing department in a box" model, collaborating closely with its clients to deliver marketing-based solutions to business and growth challenges. Echo-Factory has been delivering creative, media and strategy-based marketing services for more than 15 years. www.echo-factory.com